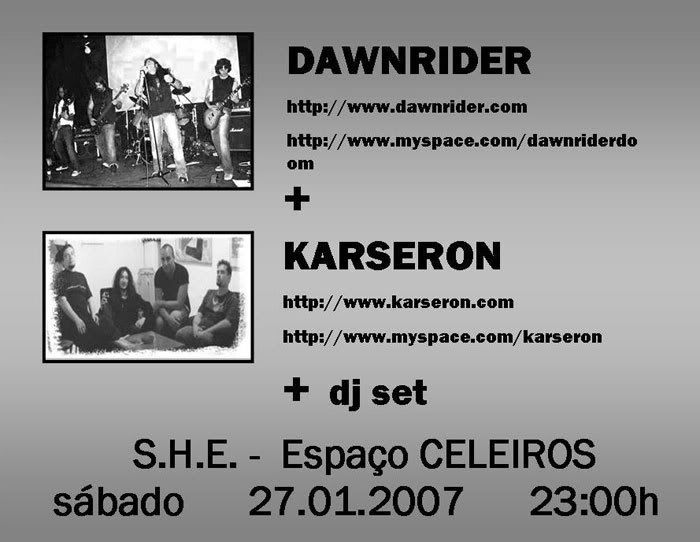 "Who would ever guess that in sunny and warm Lisbon, the capital of Portugal, suddenly a core of Heavy Metal Hippies would join and form an Heavy Rock / Doom monster called DAWNRIDER in the spring of 2004? Actually they did, and they took the underground by storm when they made their first live appearancein July 2005, to promote their debut Split EP with Maryland´s War Injun out on Blood and Iron Records (also based in Lisbon).

Dawnrider frontman F.J. Dias teams up with João Barrelas and Hugo Conim on guitars and quickly add the rhythm section made up of Samuel Rebelo on bass and Victor Silver on drums. All these members have contributed in the past in several underground bands from Portugal some with lesser importance, others with bigger impact, such as Subcaos and The No-Counts D.O.M. just to give an example of two different eras.

Embracing a whole culture of 70s Psychedelic Hard Rock and 80s Doom Metal, but also speeding up occasionally like a Punk/Metal cocktail, Dawnrider is here to stay, bringing a positive message, brought by an imaginary freedom warrior riding unknown roads, battling against evil spirits and destroying oppressive human condition."
www.dawnrider.com
www.myspace.com/dawnriderdoom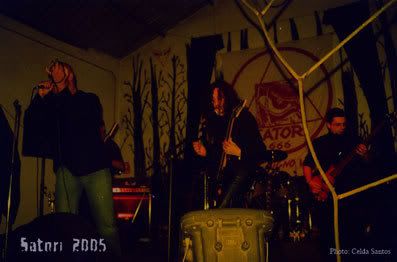 "Formed Back in September 1992, Karseron have always felt on their skin the effects of living in the inner south of Portugal. From constant line-up and rehearsal room changes, to the lack of infrastructures and support in their region, Karseron have always stood strong in their fight against mental, local and sound prejudice.

For a decade, the band has played with bands like Decayed, Sacred Sin, Mourning Beloved, Morgion, Prejudice (among others) and released several demos (Utopia promo-tracks, Suffer in Darkness, The Dreams of The Dead, Frozen Tears, Ten Years Of Punishment, Krux Krucis), and has been a constant present in radios, magazine and fanzines all over the world.
In 2004, the band suffers once again line up changes and starts working with programmed drums and keyboards. Three months later, the band plays its first gig without a drummer/keyboard player, and has been playing live on a regular basis throughout Portugal.
The band released in June 2005 Krux Krucis, a five song Cd-r, available for promotion only and while working on new songs, has already confirmed gigs until the end of the year.
Still trying to find a drummer and a keyboard player, Karseron stand not only by their sound, but also by the attitude they have surpassed all obstacles.


All thoughts, all passions, all delights,
Whatever stirs this mortal frame,
Are all but ministers of love,
and feed its sacred frame


S.Taylor Coleridge



Karseron are:
Gualter .. Guitar/ Vocals/ Programming
Custodio .. Bass
Jacinto .. Guitar
Lois .. Vocals"
www.karseron.com
www.myspace.com/karseron